Learn and Embrace an Ancient Technique of Energetic Protection in a Simple and Liberating, Modernized Method
Learn To Protect Your Energy
A must-have for anyone who wants to protect their energy and live in alignment with their true self
$111
Get Access only for $7
Introducing Energetic Armour
The Energetic Armour Course is a streamable self-study tutorial, simple and straightforward in its delivery and effectiveness


It teaches you how to protect your energy, so you can still be of service to those who need it, so you can give care, compassion and love to others, without draining yourself in the process.



It teaches you practical ways to identify and cleanse energies that you have inadvertently taken on, and how to remove them as needed; simply, efficiently and effectively.



Provides you with step by step practical demonstration and informative application of the 6 step energetic process.



You can live a life free from energetic distractions… and realize that you are not to blame for the vast majority of the energetic burdens you have been carrying with you throughout your entire life.
Are you aware of each and every energy that is affecting you?
Pause for a moment and consider that question. Most people are able to come up with the obvious answers; struggles with relationships, finances, careers, events from the past, concerns about the present, anxiety over the future, etc.
What if I told you that right here and now there are things beyond your potential awareness that you are energetically subjected to, and as a result, your well-being is dependent on the energetic response to those influences?
It is entirely possible to live in a way that you dictate, in a way that is clear and purposeful. You don't have to be a victim of circumstance or react to challenging situations seemingly in an out-of-control manner. You can celebrate and retain your own energy, and dictate to whom and what you'd like to share it with.
Learn to Shield Yourself with Energetic Armour!
Discover the transformative power of energy protection and experience the freedom of being in control of your energy and your life with Energetic Armour.


Feel true to yourself, to feel good



Have personal clarity and purpose



Take leaps of faith with decisiveness and certainty



Connect to your unique sacred self and live accordingly



Have accurate direction and reverence in your decision making
Here is what You Will Get
Z

Videos

Z

Workbook

Z

Handbook
Embrace Your Unique Sacred Self
Our course is designed for anyone who wants to protect their energy, overcome limiting beliefs, and unlock their full potential. Whether you're a spiritual seeker, a healer, a coach, or simply someone who wants to live a more fulfilling life, Energetic Armour is the perfect course for you.
Join now and discover the transformative power of energy protection. With our simple and liberating method, you'll be able to reclaim your power, embrace your true self, and live the life you deserve.
Hear From Our Satisfied Clients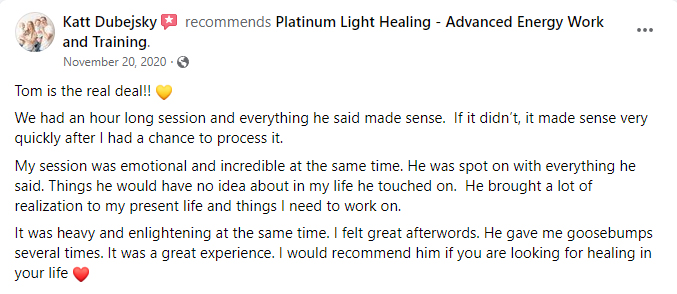 Learn To Protect Your Energy
A must-have for anyone who wants to protect their energy and live in alignment with their true self
$111
Get Access only for $7
Platinum Light Healing ©2023 | All Rights Reserved