Learn the secrets to return, align, re-charge, rebalance and connect with your divinity
Do you know who you truly are?
How do you answer that question? Many people point to their past, their present, the way they were raised, their upbringing, their education, their demographic, their personal crisis, traumas, accomplishments, failures, achievements, diplomas, certifications, stature, etc.
What if I told you, that those things were only representations of the life you've been manifesting…
And your true self is so much greater, so much more connected to beauty and divinity than you could ever imagine?
It is entirely possible to live an energetically purpose-driven life; free from stress, anxiety, and doubts, where you no longer have to react uncontrollably to any given circumstance, where your actions are based on your own unique groundedness and inherent wisdom. You can have a life that is harmonized with spirit and in purpose. You can align with who you truly are, and the beauty and power that you are connected to, and help others experience the same.
This energetic foundations course is a live 3-month program that is a straightforward discovery of your truest potential in spirit.
Every person is unique. Every person has special gifts, skills, abilities, and inherent energetic wisdom.
This program your safe place to research, examine, and develop your spiritual self.
We're here to provide you with a foundation from which you can always return, to align, to recharge, to re-balance, and to connect to your divinity.
If you have known your entire life that there is more to you than the circumstances and paradigms that have defined you your entire life, but you haven't found the means to explore and grow that knowledge, wisdom, and power…
Then we can tell you this Energetic Foundations Course is for you.
You can live a spiritually charged and directed life…
And realize that you are so much more than just a "normal" person
You were able to experience…
An Expansion of your Soul

A Deep Connection to Your Purpose

Pure Happiness and a Deep Sense of Clarity

A Stronger Connection to your Intuition

A Connection to Your Superhuman Abilities

A Discovery of Your Intuitive Gifts

Miracles Unfolding Before Your Eyes
You have to remember that you are energy first. You are of a divine source first…
And we're here to guide you back to that divine connection
So let's take a look at what you'll learn in this program…
Module 1:
 What is Energy and How You Can Use it to Discover Incredible Gifts, Skills, and Abilities
Module 2:
A Deep Dive into the History of Energy and How to Use the Energetic Principles to Bring You Back into Alignment
Module 3:
Exploring Energy and its Connection and Affect on our Human Systems; Mind, Body, Emotions, Spirit
Module 4:
How You Can Use Energy on Yourself and on Others
Module 5:
How You Can Use and Guide Energy in All Stages of Life
Module 6:
What are Energetic Symbols and How You Can Use the Symbols to Develop Your Mindset, Spirits, and Gifts
Module 7:
Various Symbols, their Purpose, and Choosing Symbols for Specific Purposes
Module 8:
How To Protect and Align Your Energy in Service to Others
Module 9:
How to Connect to Your Divine Energy and Manifest Directly from Our Infinite Universe
Module 10:
The Tools to Implement Your Daily Energy Practice into Your Life
Module 11:
How to Use a Master Symbol + Direct Manifestation and Intention in All the Dimensions of Life
Module 12:
How You Can Immerse Energy into Your New Way of Life Expressing the Infinite
Thomas and Janette O'Neill Burns
We are a family of Reiki Masters and Energy Healers, who have been on our own individual spiritual journeys in the past decade, always knowing there was more,
And this journey has led us to discover energy on entirely different levels, which has led us to discover and create modalities of healing that have led us on a purpose to use the light of source to heal and expand the souls of each individual we come into contact with.
We're here to teach you how you truly can understand your own energy, so you can develop your own connection with source, discover who you truly are, and what's actually possible for you, and connect back to your true divinity, your true calling so you can truly start doing the work that you're here to do on this planet while you're existing in your physical 3D form.
And we can't wait to reveal to you the infinite field of possibilities that are available to you.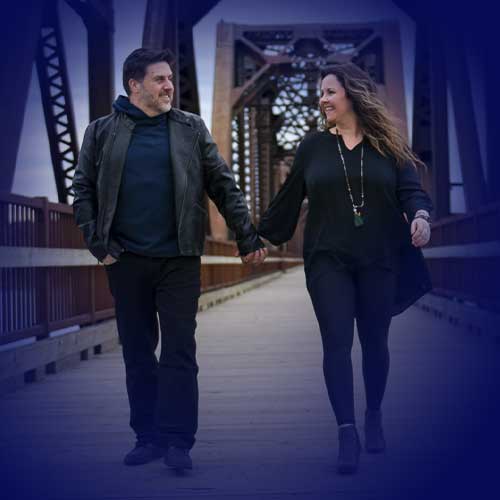 So if you're ready to connect back to your true divinity, live a life that's harmonized with your spirit and your purpose…
Come join us in Energetic Foundations Today